Historical Information
Key information about the Gault miniature houses based on information provided by Dominique Gault, research of various internet sources and internet archival systems, and articles in France newspapers.
The Early Years (early 1980's)
Jean-Pierre Gault is an architect and artist born in Bordeaux in 1940 and is primarily a creator of artistic paintings. In the early 1980's, Jean-Pierre saw miniature terracotta houses made by an artisan in Ibiza and started developing the idea. As a resident of St Paul de Vence and seeing tourists photographing the old historic streets and houses, he came to the realization that aside for postcards there were no products available for the tourists to go home with great memories of the regions. He initially made miniature houses out of wood, with windows marked with a branding iron, tin and porcelain, but the efforts and costs of such creation was prohibitive.
Jean-Pierre then met with Jean Derval (1925-2010), a well-know ceramist from Vallauris who has actually worked with Picasso. Their collaboration over a few years allowed them to develop and fine-tune the fabrication process from creating miniature houses in ceramic. Upon the creation of the first houses, Jean Derval ceased to be involved however remained as a great friend to Jean-Pierre (and his brother Dominique), who are both extremely grateful for him and his contribution. The following sets of miniatures houses depicting Provence and Paris date from the early 1980's and are credited to Jean Derval and Jean-Pierre Gault in a book where the photo appeared.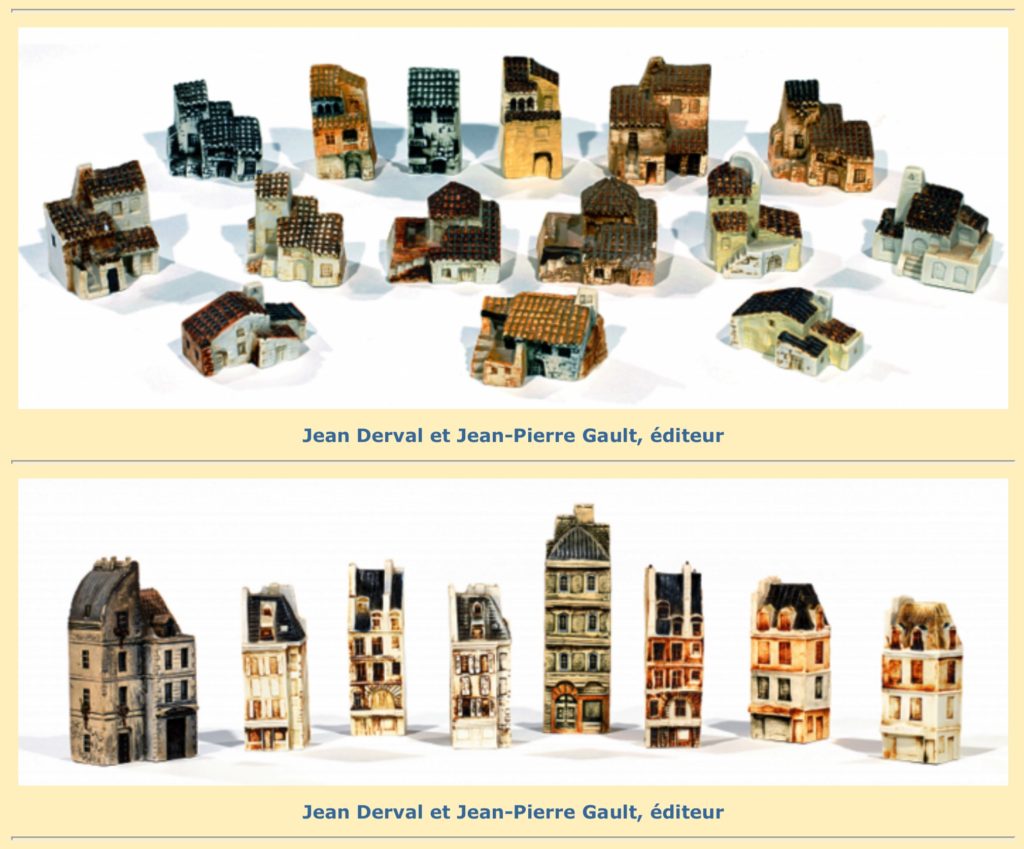 Jean-Pierre continued to develop some revolutionary techniques for the creations of the first Provence ceramic houses, such as extruding sections, templates for slanted/cut-off corner, and roof-making device.
The first houses came out in 1983 made in Jean-Pierre's garage, on Casse-coup street in St Paul de Vence. He continued to refine aspects of the techniques and wall colors and realized a small but interesting success with tourists.
In 1984, Dominique (Jean-Pierre's brother) financed for a small boutique at 41 rue Grande (also known at the time as 41 Place de la Grande Fontaine), the main road of Saint-Paul-de-Vence. Dominique Gault was born in 1946 and is an entrepreneur / business man. The fountain near Jean-Pierre's boutique was used as the model to use the fountain accessory.
On February 27, 1984, Jean-Pierre filed for his first brand name called "LES COMPAGNONS DE ST PAUL", with a logo depicting a hand holding a miniature building. St Paul references St Paul de Vence, France.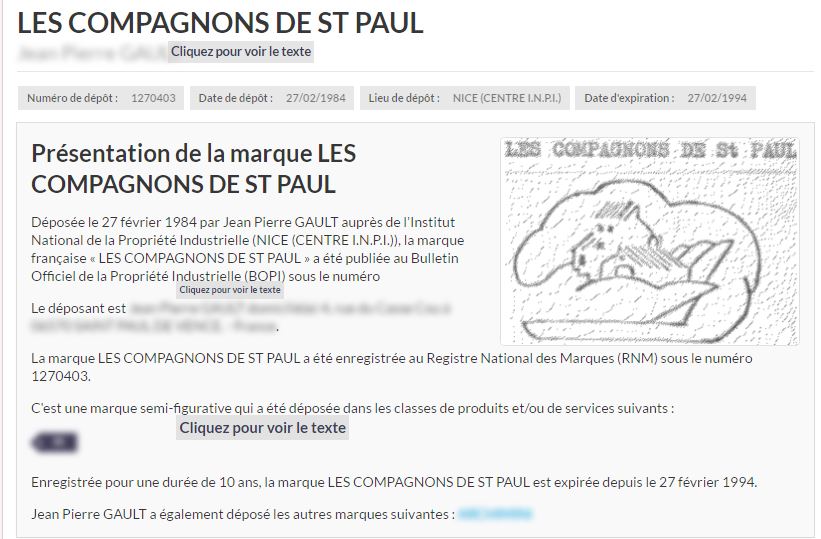 I have however never found any products bearing that brand. The earliest pieces I found have the following inscription on the bottom: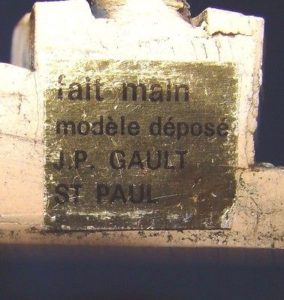 Near the end of 1984, Jean-Pierre presented to Dominique his first Paris miniature houses and asked his help to finance and boutique in Paris. The shop was located at 206 rue de Rivoli and the façade was ornate by original sculptures by Jean Derval and Jean-Pierre Gault.
The Beginning of the Gault Houses (1985)
The Paris boutique opens in June 1985. The success is such that a large portion of the stock of miniature houses is sold out by August. The forecast of the yearly revenue is realized in just 3 months. Facing this unexpected success, Jean-Pierre becomes overwhelmed by the workload and asks Dominique to take charge of the business, which is not something that was ever expected by either of them.
On July 23, 1985, Jean-Pierre registered a new brand called "Jean Pierre Gault", with the word "Gault" in the signature style that eventually became the logo and the stamp on all the pieces.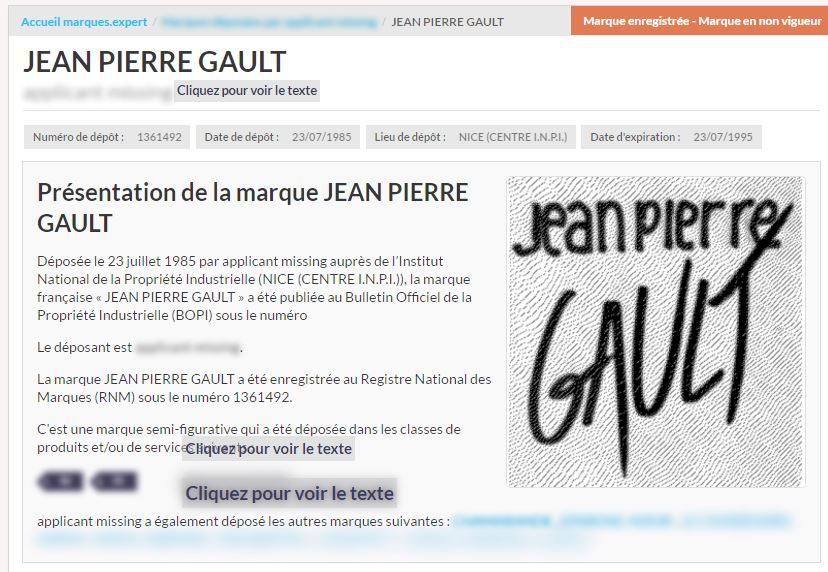 Less than three weeks later on August 9, 1985, Jean Pierre Gault registered a third brand called "ARCHIMINI", a short for Architecture Miniature. (There was no logo associated with this brand but seemed to have a business purpose and was re-registered for another 10 years by his brother Dominique when Jean Pierre's registration expired on August 9, 1995, making it valid until 2005).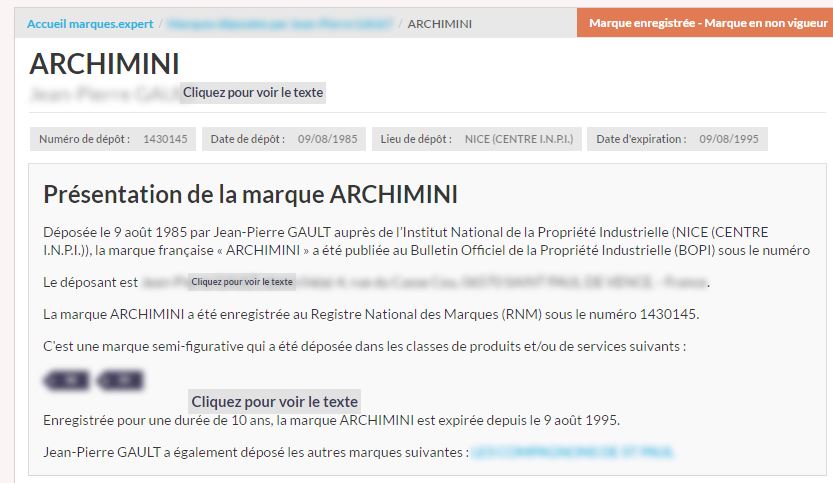 Starting later in 1985 based on an essential demand from collectors the focus was put on miniature boutiques and shops rather that just residential houses. The painting of storefronts and window scenes delighted collectors.
Starting in 1986, Dominique runs the business completely and Jean-Pierre's role is of an artistic consultant. At this point, Dominique travels throughout France and other countries and participates in various conventions. The success is immediate – television appearances, radio interviews, articles in newspapers and magazines becomes Dominique's daily life from 1986 to 1990.
Gault Houses in the 1990's
Across the business, the staff of salespeople, sculptors, and other personnel, grew to over 100 employees. At some point, it appears that the main location was the Galerie Architecture Miniature Gault located at 39 Avenue de L'Opéra, Paris, at the bottom right of the building with the yellow awning.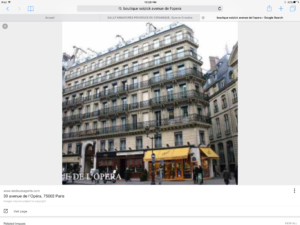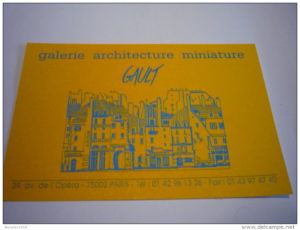 For a long time I was under the impression that there were only miniature houses of Provence and Paris, which was quite wrong. I read in a few places that Japanese tourists were very fond of the Gault houses so I performed some deeper internet searches through Japanese sites. I discovered that a lady name Natsuyo Nogawa wrote a book titled Gault-House Miniature Ceramic published in 1991, which I was able to find one and purchase it, but they are quite hard to find.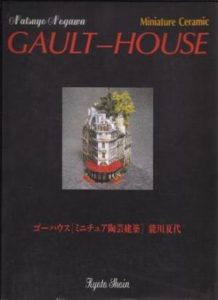 The book is a gold mine of information and photos. She met and interviewed Jean-Pierre and Dominique. Here's is a photo of them circa 1990, with Dominique on the left and Jean Pierre on the right: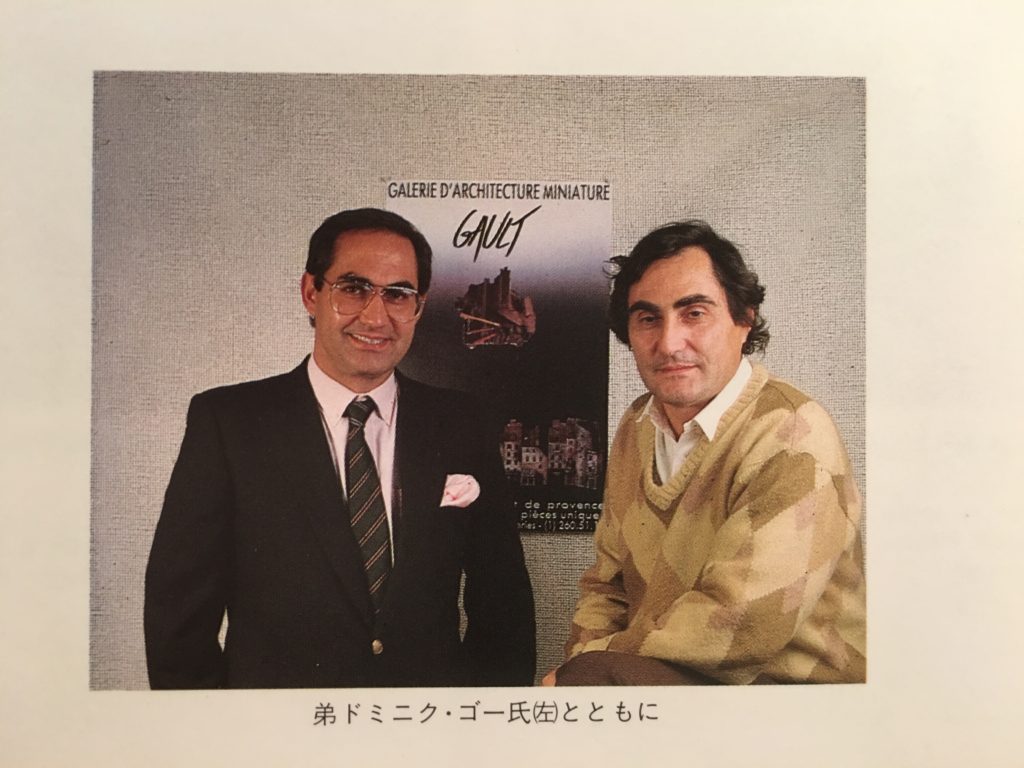 The biggest revelation to me in this book is the 8 regions or cities, along with the details of the sets of buildings within these regions or cities. At the time of the book (1991) they were: Provence, Paris, Alsace, London, Amsterdam, Rome, Venice, and San Francisco. See the Gault Original page for more pictures from the book. More series were created after that:
France: Corsica (Corse),  Brittany (Bretagne) and a few houses from Toulouse
Italy: Tuscany (Toscane), particularly San Giminiano
USA: Some traditional American houses and at the request of Walt Disney, Main Street Disney
There were also a few houses for Vienna, which in Dominique's opinion are of a rare beauty.
According to my research, the primary ceramics artist was now Patrick Perrault. Jean-Pierre retained a role of consultant until 1992 then fully dedicated his time to his paintings. He did provide occasional advice until 1996. In 1996, the business was sold to Enesco and a new brand called "J Carlton by Dominique Gault" was conceived. The ceramic artists continued the Gault Original ceramic houses until 2001.
In the US, a distributor called Planet-Gault as well as the France pavilion of the Epcot Center in Orlando, Florida, sold the Gault houses until some point in the 2000's.
While the focus of this history is on the houses, it is important to mention that Dominique personally created the design for metal figurines, vehicles, and other small pieces with the help of a great sculptor, which are still produced today. The figurines are made by a artist from France, Jean-Pierre Lobel, who started had a business in Poland and moved it to Madagascar in 1995. His business is called Art Miniature and his website is www.figurine-artminiature.com however the figurines for J Carlton are not sold through him directly, they are sold through J Carton.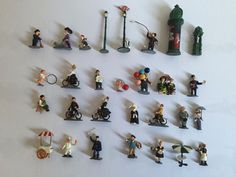 Gault Original and J Carlton Houses (2000's)
in 2001, Enesco decided to be dedicated to the J Carlton brand and integrated or let go the last ceramists.
Eventually, all Gault boutiques closed however Dominique converted the 39 Avenue de L'Opéra location into Boutique Soizick which according to my research was  managed by his wife Dorothée. Boutique Soizick sold art of ceramic and other materials, and also sold both the Gault Original and J Carlton houses. I assume the Gault Original (ceramic) houses were then produced by Patrick Perrault.  This is where I personally discovered the Gault houses during a visit to Paris in 2009.
Here are photos of the boutique from the outside and the inside. On the second photo, the ceramic houses – Gault Original – are seen in the shelves on the right. The resin houses are in the shelves on the left, which are a little bit smaller in scale.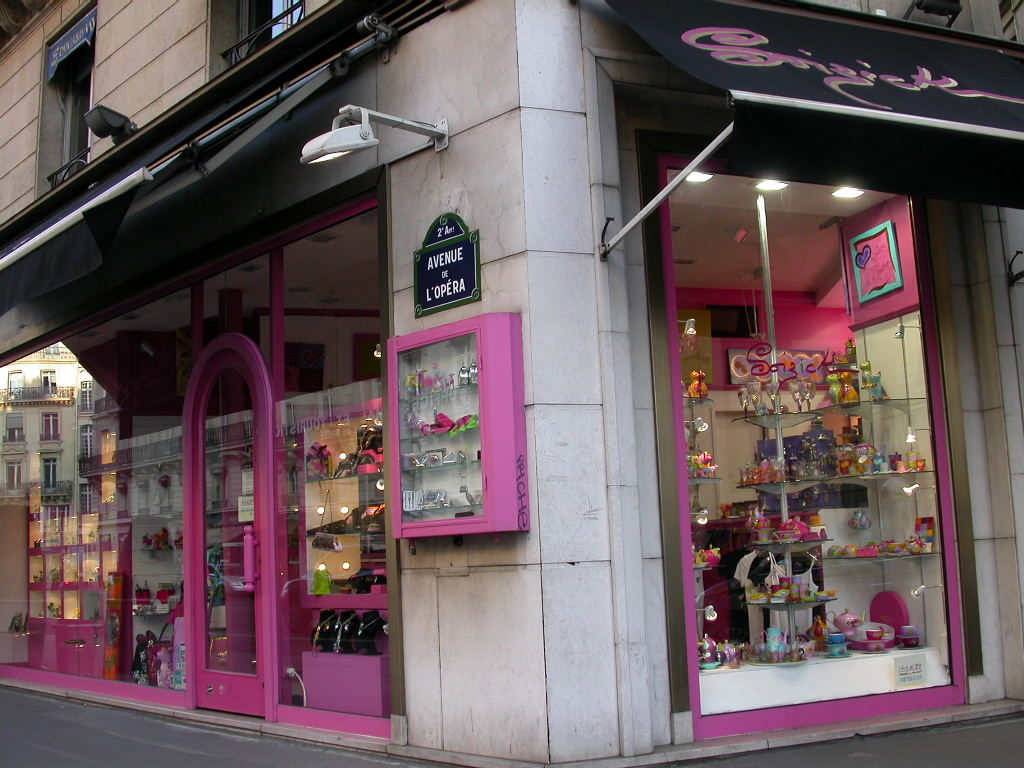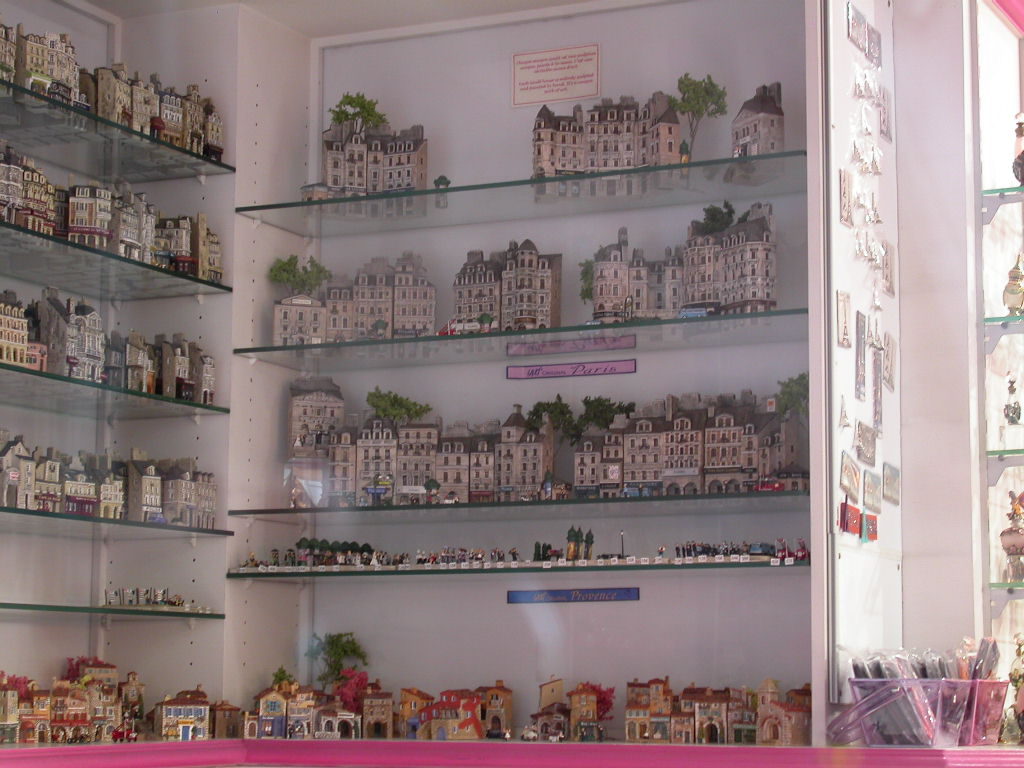 One of the boutique's street windows showcased the miniature scenes, both resin and ceramic: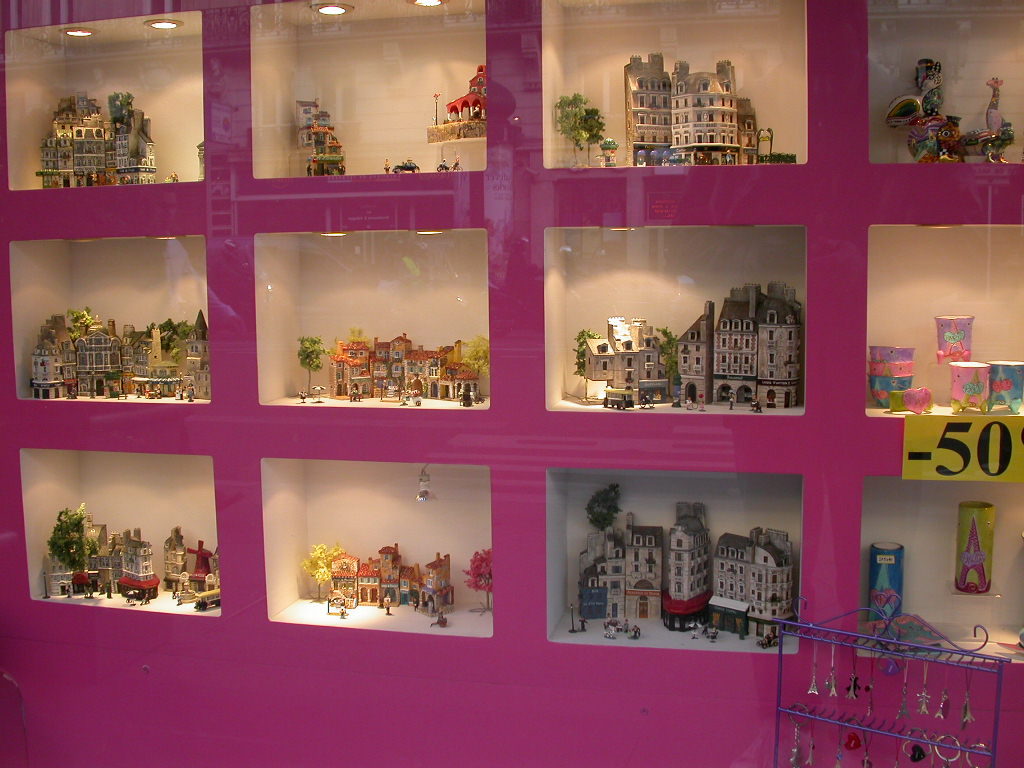 At the time of visit at the boutique, the Euro currency was quite high and the ceramic piece came at a hefty price. After my trip to France, I inquired about a specific Paris ceramic building (Cafe de la Paix, at a price of 224 Euros). I was told that the artist (I assume Patrick Perrault) can be commissioned to make it, and it would take 2-3 months.
The End of the Gault Ceramic Houses (2010-Today)
In August 2010, I received a broadcast email from Dominique Gault stating that after two years of closure of the Gault workshop due to expensive production costs, the production and sale of Gault houses was starting again, with new products available at the Soizick boutique. Patrick Perrault had started a business named Terra Design which apparently was going to continue making the Gault Original houses, but it appears that it never came to be. Sadly, Dominique sold the boutique in 2010 and according to my research the Soizick closed sometime around 2014.
The Gault Original (ceramic) houses can be sometimes be found on the Internet from collectors selling them, estate sales, etc. The Provence pieces tend to be the easiest to find, as there were probably produced more of them than the other series, followed by Paris pieces. The other six series are harder to come across, but I do have  pieces from the London, Venice, San Francisco and Alsace collections, and I continually look for more.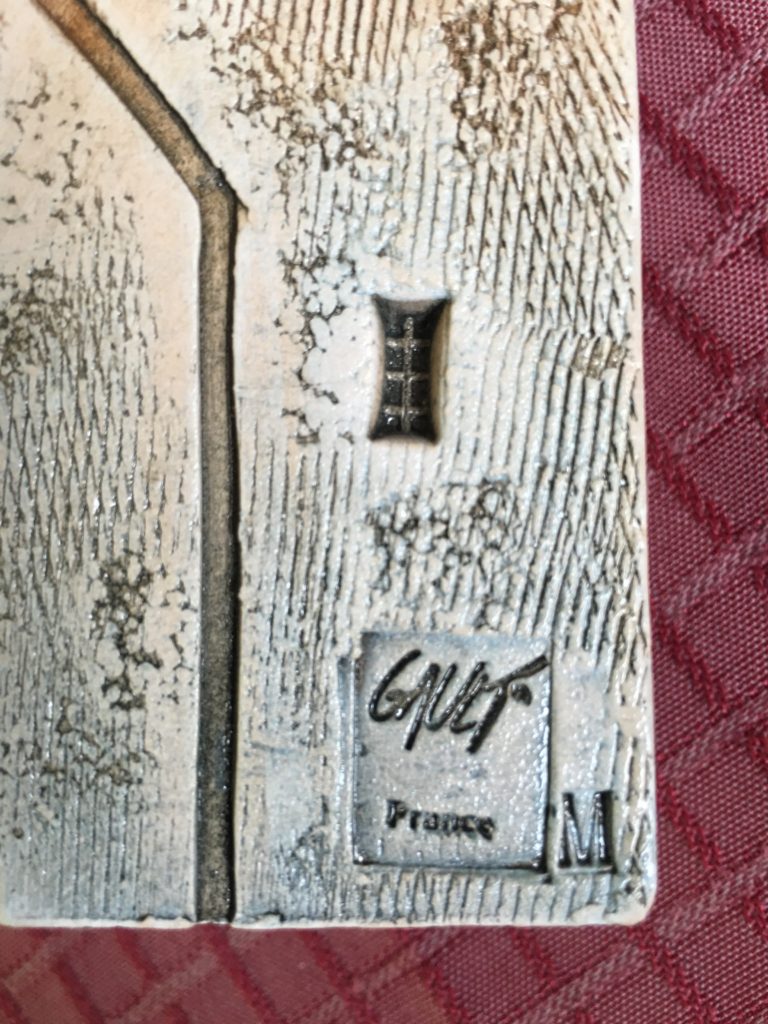 The ceramic pieces have the GAULT stamp on the buildings (usually the back or a side), like the one shown in the photo on the left. If you hold a ceramic piece and a resin piece of similar size, the ceramic piece will be heavier. Ceramic pieces however are more fragile and can chip easier than resin pieces. Visit the Gault Original page for more details about the stamps and what they mean.
The J Carlton resin pieces typically have a number printed on the underside of the piece, along with J Carlton or J Carlton by Dominique GAULT, like this one: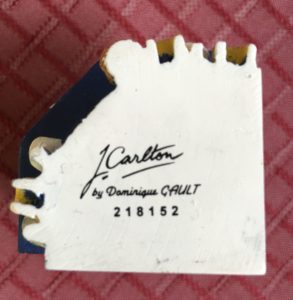 Jean-Pierre Gault was in interviewed on a France television show called La Grande Emission that aired on March 4, 2016, where he talked about his miniature houses and brought sample pieces. Today he focuses on his paintings and other artwork in his home town of Villeneuve-Loubet, France. As for Dominique Gault and his wife Dorothée, today they own and operate a business name France Haie specializing in artificial hedges, also in Villeneuve-Loubet, France.
Visit the Gault Original and J Carlton pages for more information on photos. Thank you!